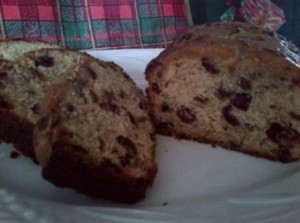 I love the idea of fruitcake.
Boozy fruit steeped for days. The tradition of recipes passed down for generations. The seriousness of it all – weeks, even months, of preparation and planning.
I love the idea.
Actual fruitcake? Not so much.
Until now.
I (liberally) adapted this from a British World War II era recipe, and the result is a more frugal alternative to what has become the traditional fruitcake in North America.
Soaked in a honey syrup instead of rum, it's more family-friendly (just save the rum for your eggnog!)
I can't stand glaceed cherries and candied citron, so there's none of that here. I used raisins, dates and dried cranberries (which I always have on hand), but you can add whatever combination of fruit you like.
Another great thing about this? It doesn't need to age for weeks, so you don't need to be thinking about Christmas baking in October. If you haven't gotten started on your Christmas baking yet, it's not too late to make this cake.

Last Minute Honey Ginger Fruitcake
Prep time:
Cook time:
Total time:
Serves:
Makes 2 8x4 inch loaves
This moist cake will please everyone, including determined fruitcake haters. Honey and sour cream contribute to the great texture. You can adapt it easily to include your favorite fruits and flavors. You will need to allow time to let the dried fruit soak before making the cake.
Ingredients
3 cups / 750 ml dried fruit
½ cup / 125 ml apple juice
⅓ cup / 80 ml butter, softened
⅓ cup / 80 ml olive oil
¾ cup / 175 ml brown sugar
¼ cup / 60 ml honey
2 eggs
½ cup / 125 ml sour cream
2-1/2 cups / 625 ml all purpose flour
¼ cup / 60 ml additional flour (for mixing with fruit)
2 teaspoons / 10 ml baking powder
½ teaspoon / 2.5 ml salt
½ teaspoon / 2.5 ml ginger
½ teaspoon / 2.5 ml cinnamon
½ teaspoon / 2.5 ml cardamom (optional)
¼ teaspoon / 1.25 ml cloves
⅓ cup / 80 ml candied ginger, chopped fine
½ cup / 125 ml honey
½ cup / 125 ml water
Instructions
Prepare fruit. Chop large pieces into dice if needed. Soak in apple juice for two to 24 hours.
Preheat oven to 325 degrees F / 163 degrees C.
Grease two 8-inch x 4-inch loaf pans. Line bottoms with parchment paper.
Cream softened butter in large mixing bowl.
Add olive oil slowly and mix until blended.
Add sugar ¼ cup at a time, mixing until sugar is well combined.
Add honey.
Beat in eggs one at a time.
Add sour cream and mix until smooth.
Mix the 2-1/2 cups flour, baking powder, salt and spices together. Fold into butter mixture until well mixed together.
Stir the remaining ¼ cup flour into prepared fruit. Add fruit mixture and candied ginger to cake batter. Fold in gently until fruit is even distributed throughout batter.
Spoon into prepared pans. Smooth tops gently and bake for 1 hour to 1-1/4 hours. Bake until cakes test clean.
While cakes are baking, prepare honey syrup by heating the ½ cup honey and water together in small pan or in microwave until honey is dissolved in the water.
When cakes are done, brush liberally with the honey syrup as soon as they come out of the oven and are still in the pans.
Let cool 10 minutes in pans, brushing with syrup as they cool.
Remove from pans and brush top and sides occasionally as they cool.
When cool, wrap in tinfoil and store in an airtight container, or freeze.
Notes
If the honey syrup gets stiff, heat in the microwave for 10 seconds to soften it up.